Posted on April 24, 2019 by Kay Syrah |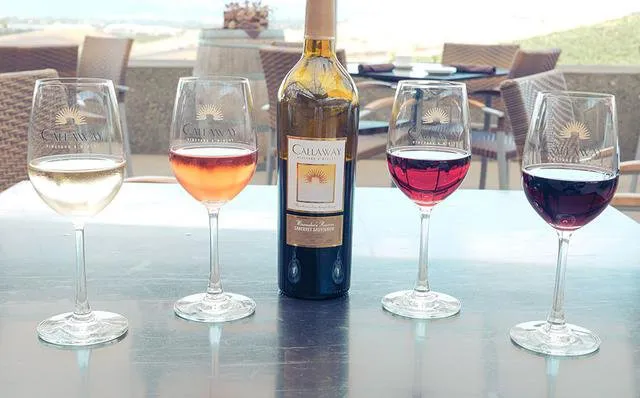 That instant when you first saw the man who would become the love of your life. The exact time when your baby was born, and you first cradled her in your arms. Your life is marked by significant moments that change your course and become indelible memories.
Like people, wine countries have a life cycle. And just as in our lives, there are significant events that can make a really big difference. For three of California's wine regions, a single event catapulted each from obscurity to fame.
For Temecula Valley Wine Country, the date was July 9, 1976. On that day, at a luncheon at the Waldorf-Astoria Hotel in New York City, the only wine served was an estate bottled 1974 White Riesling from Temecula's Callaway Winery.
The fact that a Temecula wine was on the menu at a swanky metropolitan establishment was notable by itself, because the fledgling Temecula wine country was virtually unknown to the outside world. But not notable enough to gain the tiny wine region any significant recognition, if it weren't for a royal guest, and what she did that caught a reporter's attention. The luncheon celebrated our country's bicentennial year, and in attendance were Her Majesty, Queen Elizabeth II, and His Royal Highness, the Price Duke of Edinburg. The Queen, who was not known to be an imbiber, requested a second glass of the Southern California vino. Her apparent fondness for Callaway's Riesling was mentioned in the international press. In an instant, Temecula was on the wine map.
The life-changing date for the Santa Barbara wine region was September 13, 2004. That's when the movie Sideways premiered at the Toronto International Film Festival, initiating the so-called "Sideways Effect." The movie starred Paul Giamatti as Miles Raymond, a recently divorced teacher who aspires to be a published writer. As a best man present to his soon-to-be-married friend Jack, played by Thomas Hayden Church, Miles arranges a wine tasting trip to the Santa Ynez Valley in the heart of the Santa Barbara wine region. The movie was filmed on location. Several wineries, and many other notable local landmarks, appear prominently in the film. The low-budget indie film was a surprise hit, and its popularity triggered a significant rise in sales of Pinot Noir, which Miles revered, and a decline in sales of Merlot, which he detested. And, following in the footsteps of Miles and Jack to the Santa Barbara wine region became suddenly trendy, unleashing a stream of northbound limos, vans and buses from Los Angeles and other southern California cities.
The event that had the most impact for any California wine region, and probably for the entire United States wine industry, was the "Judgement of Paris," held on May 24, 1976. It's hard to believe that Napa, now recognized internationally as a producer of world-class wines, was ever dismissed as a second class producer of jug wines. But at the time, it was common knowledge that good wine originated from only one continent – Europe – and great wine came from only one country – France. But that changed when Steven Spurrier, the British owner of a small but distinguished wine shop in Paris, organized a blind tasting competition pitting well known French Chardonnays and Cabernet Sauvignons against their unknown counterparts from Napa Valley. The panel of experts, all French nationals, were as shocked as the rest of the world by the results. The top wines, both white and red, were from the New World.
George Taber, a reporter for Time magazine, revealed the surprising results to the world. In a single day, Napa wine became prestigious, and both production and prices climbed rapidly as a result.
A moment made all the difference for each of these California wine regions. My advice to all who read this blog… Come out to wine country and make your own moments.
~ Kay Syrah
Wine Country Guru Gal
Official Blog