Posted on July 13, 2018 by Kay Syrah |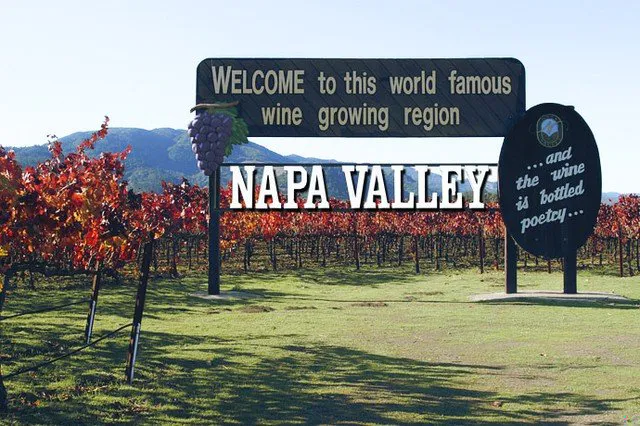 Napa Valley is, undoubtedly, the most famous and awarded wine country in the United States. Surprisingly, the Valley produces a relatively small amount of wine compared to the rest of the world, and even compared to the rest of California.
Just 4% of California wine grapes grow in Napa Valley. And Napa's wine production comes in at only 0.4% of worldwide totals.
Napa Valley was a relatively unknown wine region prior to the 1976 judgment of Paris, which shone an international spotlight on Napa wine and launched a stunning advancement in the recognition of this tiny and beautiful Northern California wine region.
Napa wines benefit from a dry Mediterranean climate, which covers only 2% of the earth's surface. Like most of the superb wine regions throughout the world, Napa is close enough to the ocean to benefit from moist, cooling breezes. But also just far enough to provide hot dry afternoons. This rare micro-climate allows wine grapes to grow vigorously, and then to ripen fully.
Here are important facts about the Napa Valley wine region:
The valley floor is 30 miles long and 5 miles wide at its broadest point. It is home to approximately 45,000 acres of vineyards. Vineyard altitudes range from just above sea level - down in the flats of Carneros - to over 2500 feet in the foothills of the surrounding mountain ranges.
Average high temperatures during the summer are about 80° in the southern part of the valley, close to the San Pedro Bay, and 95° in the northern part of the valley.
There are 16 approved American Viticultural Areas within the Napa Valley master AVA. An American viticultural area is assigned to a place that has a combination of growing conditions - primarily soil, climate, and altitude - that makes it distinct from other AVA's. The United State's first Agricultural Preserve was established in Napa Valley in 1968, limiting development and undoubtedly playing a pivotal role in Napa's rise to a preeminent producer of premium wines as well as one of the most popular tourist destinations in California.
There are about 700 wine grape growers in Napa County, and approximately 475 physical wineries. The local wine industry now accounts for $9.4 billion in local economic impact, and supports 44,000 local jobs.
More than 30 wine grape varieties grow in Napa County. Not surprisingly, almost half the acreage under cultivation is comprised of Napa Valley's signature varietal, Cabernet Sauvignon. The next most abundant varietal is Chardonnay, representing about 15% of production.
Well, there it is. Now you know the numbers. But when it comes to Napa wine, reading about the Valley doesn't tell the real story. Only visiting and tasting does.
~ Kay Syrah
Wine Country Guru Gal
Official Blog