Posted on July 14, 2016 by Kay Syrah |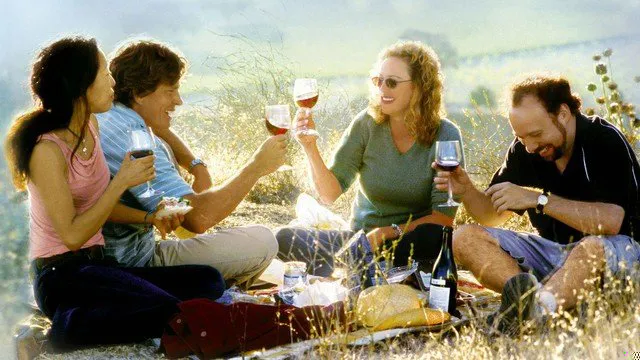 ​I present to you - ta da! - Kay Syrah's top three movies about wine. Winners are, in no particular order, Somm, Bottleshock, and Sideways.
SOMM
During the past forty years, about 220 people worldwide have passed the Master Sommelier Exam. During that same period, almost 10 times as many people have been struck by lightning in the United States alone. So, yeah, it's an uncommon achievement.
Jason Wise's 2012 documentary SOMM chronicles the journey of four hopefuls as they swirl, sip and spit their way towards the pinnacle of wine knowledge. The movie uncorked the secret and highly obsessive world of the Court of Master Sommeliers, and immediately became a cult fave for self proclaimed wine snobs like me.
But as geeky and inaccessible as its topic may seem, SOMM offers broad appeal with themes of camaraderie and a Rocky-esque pursuit of excellence.
Bottle Shock
Prior to May 24, 1976, premium wines came from France, and cheap jug wines came from America. Then, there was the "Judgment of Paris."
Bottle Shock is based on the true story of the blind tasting competition that transformed Napa wine from a cheap buzz to a premium quaff. The brainchild of British wine merchant Steven Spurrier (played by a delightfully disdainful Alan Rickman), the California vs. France competition was expected to confirm what everyone already knew... that fine wines comeonly from France.
Whoops. American wines won.
The top red wine, according to the scores of the all-French panel, was a Stags Leap Cabernet. And the top white wine was a Chateau Montelena Chardonnay. Both winners were Californians, prompting one of the French judges to demand her ballot back, and later publicly criticize the contest.
Released in 2008, the film recounts the now infamous French contest through the lives of Chateau Montelena founder Jim Barrett (Bill Pullman) and his rebellious son Bo (Chris Pine).
Sideways
Sideways is a gritty gem of a movie, a flick that single-handedly elevated consumption of Central Coast Pinot Noir by 40%, and at the same time dismissed Merlot as the varietal of the unsophisticated. The 2004 indie went mainstream to become a box office hit ($72 million domestically), and launched the careers of its four stars.
Wine snob Miles (Paul Giamatti) takes good friend and former college roommate Jack (Thomas Hayden Church), on a "last fling before the ring" jaunt into Santa Barbara wine country. Miles' intricate musings on the subtleties of the various wines they sample are lost on the crude but likable Jack...
Miles: It tastes like the back of a ******* L.A. school bus. Now they probably didn't de-stem, hoping for some semblance of concentration, crushed it up with leaves and mice, and then wound up with this rancid tar and turpentine bull****. (*******) Raid.
Jack: Tastes pretty good to me.
Sometimes crass, sometimes charming, Sideways ruthlessly mocks the inane compulsions of the wine snob, yet somehow also manages to pay homage to their oenophilic excesses.
Watch these three movies, and you will have a deeper appreciation for mankind's persistent love affair with wine. And by the way, did you figure out which wine goes with popcorn and Milk Duds? A 2010 Chateau Rieussec Sauternes, at $90 a bottle, seems the obvious choice.
~ Kay Syrah
Wine Country Guru Gal
Official Blog