Posted on March 20, 2019 by Kay Syrah |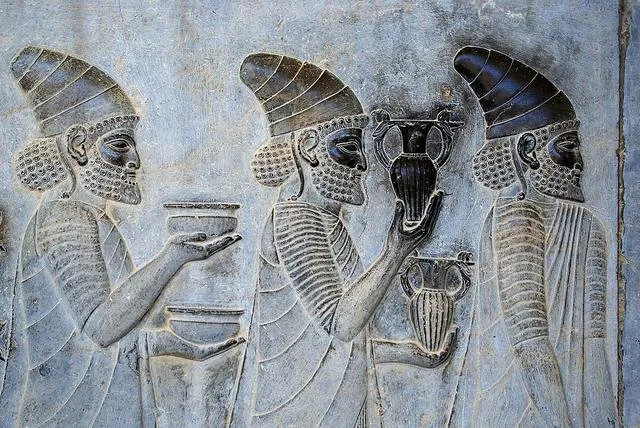 On a recent trip to Napa, I tasted a Cain Five Cabernet, and for me it was a sublime moment. Here are some other moments in wine history that are of note:
8000 BC -- The earliest known wine production occurred in Colchis, now known as Georgia. No, not the Georgia next to Alabama. The Georgia next to Azerbaijan.
4000 BC -- Discovered in Armenia, the ruins of the oldest winery are believed to date back to 4000 BC, and some historians believe they may date back to 7000 BC.
20 to 30 AD -- Jesus turns water into wine while attending the Wedding at Cana. The miracle is known as the first public miracle performed by Christ, according to Christian tradition based on John 2:1-11.
325 AD (approximately) -- The vintage of the oldest still-intact bottle of wine, discovered in Roman ruins in 1867 and still on display in a German museum.
1224 -- The King of France organized the first international wine tasting competition. Oh merde! The winning wine was not from France, but from Cyprus. History repeats itself... take a look at 1976.
August 4, 1693 -- Dom Perignon discovers sparkling wine in the Champagne region of France, and famously calls out "Come quickly, I am tasting the stars!" Ok, maybe he didn't really say that, but the quote is mistakenly attributed to him, and he is mistakenly known as the inventor of sparkling wine (see my blog from September 30, 2016 on The (Not) True Story of Champagne..
December 5, 1933 -- Prohibition ends. Wineries in California begin to flourish.
May 24, 1976 -- The Judgement of Paris takes place. French wine experts, in a blind tasting competition, pit heralded French whites and reds against unknown wines from an upstart region in California called Napa Valley. To their horror, they choose Napa's Stag's Leap as the top red, and Napa's Chateau Montelena as the top white. When the results were announced, French judge Odette Kahn demanded her ballot be returned, and later criticized the competition.
June 22, 2002 -- Grapeline runs its first wine tours, in Temecula, CA. Since then, Grapeline has become the top guest-rated wine tour in California, with more than 2,500 5-star ratings in five California wine regions at the time of this blog.
And perhaps the most relevant date for you, the reader of this blog....
Today -- The perfect day to make a reservation on Grapeline, and discover some of your own wine moments.
~ Kay Syrah
Wine Country Guru Gal
Official Blog