Posted on March 31, 2023 by Kay Syrah |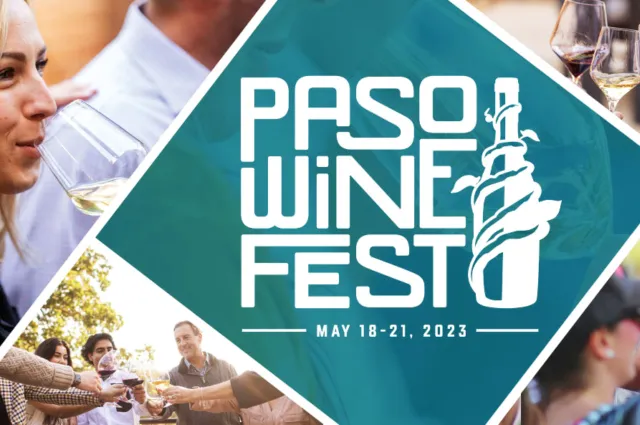 The Grand Tasting
As a wine enthusiast, I am always on the lookout for exciting events to attend. One of my all-time favorites is the Paso Wine Fest, held annually in Paso Robles Wine Country. This festival is a must-attend for anyone who loves wine, good food, live music, and a fun atmosphere.
Paso Robles Wine Festivals are an ideal way to explore the rich and diverse wine culture of Paso Robles Wine Country. This beautiful region, located on the Central Coast of California, is home to over 200 wineries and is famous for producing some of the best wines in the world. The Paso Wine Fest is the perfect opportunity to discover new wineries, try new wines, and meet the winemakers themselves.
One of the best ways to explore the wineries during the festival is by taking one of the many Paso Robles Wine Tours available. My personal favorite, of course, is Grapeline Wine Tours.
We offer a variety of tours that cater to every taste and budget. Whether you prefer a private tour or a group tour, Grapeline has something for everyone. Our knowledgeable and friendly guides make the experience even more enjoyable. We will take you to some of the best wineries in the area, provide you with insider information, and ensure you have a great time.
But the highlight of the Paso Wine Fest is undoubtedly the Grand Tasting. This is where you get to sample wines from over 70 wineries in the region, all in one place. You can chat with the winemakers and learn about their craft – while enjoying the stunning scenery of Paso Robles Wine Country. The Grand Tasting is the perfect opportunity to discover new wines and wineries and to taste some of the best wines in the world.
But it's not just about wine at the Paso Wine Fest. A selection of food is available to pair with your wines. Local chefs and food vendors showcase their best dishes, drawing from several taste profiles and even more seasoned pallets and considering the wines served throughout.
Paso Presents always brings in some of the best musicians in the area to entertain the crowds. Whether you prefer jazz, blues, or rock, there is always something for everyone. The live music adds to the festive atmosphere and creates a sense of community. Catch the KRUSH 95.5 FM on stage with Where Wine Takes You Podcast host Adam Montiel doing live winemaker interviews.
Attending the Paso Wine Fest is about more than just enjoying great wine, food, and music. It's also an opportunity to learn about the winemaking process, the history of Paso Robles Wine Country, and the people who make it all possible.
Many of the wineries offer educational seminars and workshops during the festival. You can learn about different grape varietals, wine-tasting techniques, and the art of food and wine pairing. These educational opportunities make the festival even more valuable for wine enthusiasts.
Coupled with the Grand Tasting, several other events occur during the Paso Wine Fest. The wineries host various events, such as vineyard tours, barrel tastings, and winemaker dinners. These events provide a more intimate and personal experience with the winemakers and the wine.
The Paso Wine Fest is perfect for all ages, offering fun activities for children and a lovely backdrop for an outing with family, friends, and even acquaintances. Enjoy the stunning Paso Robles Wine Country for an unforgettable day.
To sum up, & give me time to pick out an outfit - the Paso Wine Fest is an unforgettable experience for anyone who loves wine, food, live music, and a fun atmosphere. Trust me; you'll be glad to get a taste of these wines.
---
If you are looking to explore the vineyards and wineries of Paso Robles, then a Paso Robles Wine Tour is an excellent option. Grapeline Wine Tours: Paso Robles Private Wine Tour offers a fun and educational experience that allows you to learn about the wine-making process and sample some of the finest wines Paso Robles offers. So whether you are a wine connoisseur or just someone who enjoys a good glass of wine, a wine tour is the perfect way to experience the beauty of Paso Robles.
~ Kay Syrah
Wine Country Guru Gal
---
For Your Convenience, We've linked the itinerary for the event here on the Paso Wine Fest TicketSauce event page. The text from the website follows:
PASO WINE FEST 2023 Itinerary & List of Participating Wineries

A four-day celebration of Paso Robles Wine - May 18 - 21, 2023. The Paso Wine Fest is the marquee showcase for everything Paso Robles wine, with multiple events and more than 150 individual activities at the region's wineries.

The Saturday, May 20, the Grand Tasting will feature 115+ wineries, live entertainment, makers market, artisans, winemakers, distilled spirits, and elevated brand experiences.

The event weekend offers visitors the chance to explore Paso Robles Wine Country with four days of wine tastings, winemaker dinners, live music, and more!

Kick-off Paso Wine Fest with a selection of Winemaker Dinners taking place on Wednesday, May 17 and Thursday, May 18. These winemaker dinners showcase the culinary diversity of Paso Robles alongside the distinctly different wines of the region. Meet and mingle with the winemakers who will share their wines and stories. On Friday, May 19, Sparkling Paso brings together winemakers sharing their tantalizing sparkling wines perfectly paired with gourmet offerings by Executive Chef Joe White of Paris Valley Road Estate Winery. Come taste these limited-production sparklers and learn about the techniques applied to make these nose-tingling delights.

On Saturday, May 20, 115+ wineries come together at the Paso Robles Event Center to share their wines during the Grand Tasting. The 2023 Grand Tasting features many elements to make your Paso Wine Fest even more fun. Artisan vendors will be showcasing their wares at a makers market showcase. Multiple food vendors are serving up delicious festival-friendly fare, for purchase, to go with your wine in hand. Guests are welcome to bring in their own picnics, blankets, and chairs to post up in the shade and enjoy the festivities.

Spend Sunday, May 21 exploring weekend activities at 150+ wineries, including barrel tastings, artisanal food pairings, live music, and so much more! Head out into wine country to discover your new favorite winery and go home with wines you can only get by visiting Paso Robles Wine Country.

Wineries: Aaron Wines, Absolution Cellars, Adelaida Vineyards & Winery, Allegretto Wines, Alta Colina Vineyard & Winery, Ancient Peaks Winery, Anonimo, Arbuckle Ridge, Asuncion Ridge Vineyards, Austin Hope & Treana Tasting Cellar, B&E Vineyard / Winery, Barton Family Wines, Bella Luna Estate Winery, Benom, Bethel Rd. Distillery & Winery, Bodega de Edgar, Bon Niche Cellars, Booker Vineyard & Winery, Bovino Vineyard, Broken Earth Winery, Bushong Vintage Company, Caelesta, Calcareous Vineyard, CaliPaso Winery & Villa, Caliza Winery, Cass Winery, Castoro Cellars, Chronic Cellars, Clos Solène, Concur Wines, Copia Vineyards and Winery, Cordant Winery, CRUSH Vineyard, Cypher Winery, DAOU Family Estates, Dark Star, Dilécta, Domaine Degher/Mojo Cellars, Donati Family Vineyard, Donati Spirits, Dresser Winery, Dubost, Dunning Vineyards, Eberle Winery, Écluse Wines, Ella's Vineyard, End Of The Day Wines, Epoch Estate Wines, Field Recordings., Four Lanterns Winery, Fulldraw Vineyard, Graveyard Vineyards, Halter Ranch Vineyard, Hawks Hill Ranch Winery, Hearst Ranch Winery, Hoyt Family Vineyards, Hubba Wines, Indigené Cellars, Iron Oaks, J Dusi Wines, J. Lohr Vineyards & Wines, Jack Creek Cellars, Jada, JUSTIN Vineyards & Winery, Kaleidos, L'Aventure, Law Estate Wines, Le Cuvier Winery, Le Vigne Winery, Level 3 Wines, Levo, Linne Calodo, Locatelli Winery, Lone Madrone, LXV Wine, McPrice Myers Wines, MCV Wines, MEA Wine, Midnight Cellars, My Favorite Neighbor, Niner Wine Estates, ONX Wines, Opolo Vineyards, Oso Libre Winery, Paris Valley Road, Parrish Family Vineyard, Peachy Canyon Winery, Per Caso, Pendray's Distilery, Pianetta Winery, Re:Find Distillery, Riboli Family Wines, Riverstar Vineyards, Robert Hall Winery, Ruby Cellars, Serial Wines, Seven Angels Cellars, Seven Oxen Estate Wines, Sextant Wines, Shadow Run Vineyard & Winery, Shale Oak Winery, Sixmilebridge, Stilson Cellars, Straight Out Of Paso, Summerwood Winery, Tablas Creek Vineyard, Thacher Winery, The Fableist Wine Co., Thibido Winery, TOP, Villa Creek Cellars, Villa San-Juliette Vineyard & Winery, Vina Robles Vineyards & Winery, Vino Vargas, Vinyl Vineyards,Willow Creek Distillery, Windward Vineyard, Wine Boss, Zenaida Cellars Winery.

**Please note that all Wine Festival tickets are non-refundable, and all attendees must be 21+ at the time of the event. Rain or Shine. For a complete list of FAQ, visit pasowine.com/events/winefest.
Official Blog