Posted on June 10, 2020 by Kay Syrah |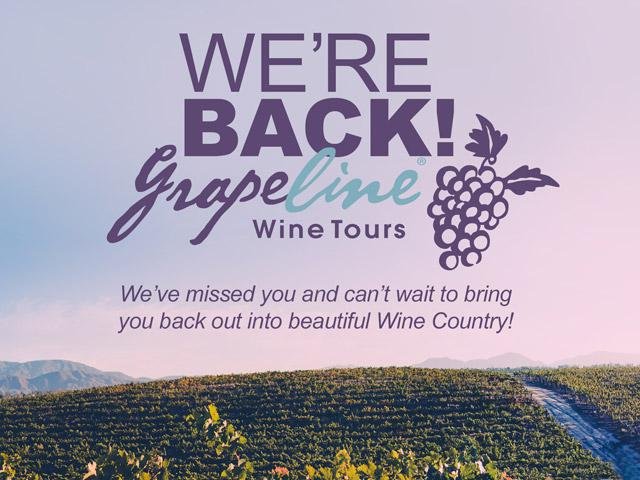 These last few months, all the Grapeliners stayed home and socially distanced ourselves from vineyards, shuttles, and from you, our guests. We're sooooo done with that, and hopefully so are you.
It's time to head out to the wineries again!!!
Kim Kelliher, our beloved leader and a real smart lady, asked me to say this: "We've thoughtfully approached our re-opening and have strategically implemented new protocols in accordance with current CDC guidelines." I think what she means is: "We're doing all the things you'd expect us to do, and then some."
So, a Grapeline tour will look different, at least for a little while. Here's what you can expect on your next 'Grape' day out:
A sanitized vehicle. We've hired in experts to routinely and professionally sanitize our fleet. Plus, high contact areas such as hand rails are disinfected again before each service and after every stop.
Socially distanced seating. Each vehicle's capacity will be lowered to allow for same household parties to sit together while at an appropriate social distance from other parties. No seat swaps allowed.
Masks Required. Face masks are required while on our vehicles for shared tours and when entering the wineries. You can take them off when safely seated to enjoy your wine and lunch!
Relaxed rescheduling policies. In the event that you need to reschedule due to illness or another reason, we have relaxed our reschedule policy to make it easy to 'raincheck' your tour with no penalties.
Employee health checks. Employees are instructed to stay home if they have any signs of illness, and must complete mandatory temperature and health checks before their day begins.
Five stars of fun. What's the point if it's not an amazing day? We're still the top guest-reviewed wine tour in California, with more five star reviews than anyone else. Nothing is going to change that!
Kim, John, and all of us in the Grapeline family are eager to welcome you back to wine country again.
~ Kay Syrah
Wine country Guru Gal
Official Blog