Posted on August 02, 2019 by Kay Syrah |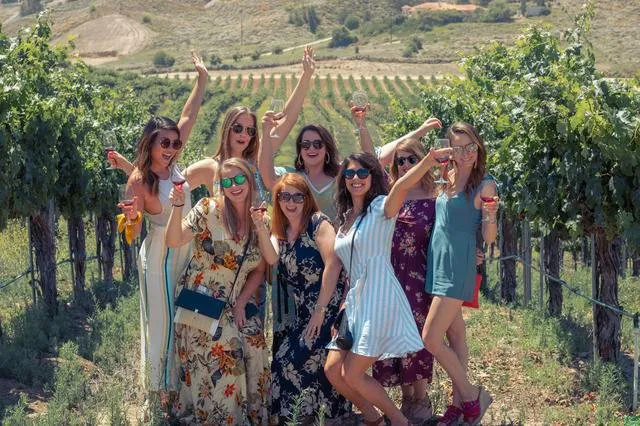 People talk. Here's what they're saying about Grapeline...
More than 3,000 people have come out on a wine tour with Grapeline and then posted a 5-star review online, on TripAdvisor, Yelp, or other popular review sites. In every region Grapeline serves, on every review site, Grapeline averages 5 stars. Here's what Kim A. of Trabuco Canyon said earlier this week about her experience with Grapeline:
Such a well planned and fun day trip to the wineries. Grapeline tours didn't miss a beat. We were a part of a pre-wedding celebration that Grapeline was sure to acknowledge and celebrate, as well. Our guide Randy was literally the best host. He thought of everything. He was so knowledgeable about the area of Temecula and its history. Thanks for making it a memorable day for our group. We truly enjoyed this experience and will be sure to tell everyone we know who to go to!
And if that sounds like I picked a good one, no, not really. It's pretty typical. That's why Grapeline consistently is one of the highest rated activities in Napa, Sonoma, Paso Robles, Santa Barbara, and Temecula. In Temecula, for example, TripAdvisor ranks Grapeline as the #1 company (out of 84) in the Food and Drink category.
When Winecountry.com listed 7 Best Wine Tours, they listed Grapeline first, noting:
The folks at Grapeline Wine Tours invite guests' winery requests and stay in touch with local wine-related events so they can offer "best of" experiences tailored to your individual preferences. Plus, after taking the tour, you become a member of Club Kay Syrah, making you eligible for hotel room deals, discounts on tours, and an upcoming "Purple Friday Sale" for members only.
Other publications, including Travelmag, VoyageLA, and the Press Enterprise have featured stories about Grapeline's wine tours, its history, and its philanthropic activities, for which it has been named a business of the year (twice!) by the Chamber of Commerce. And not one word of any of these articles is Fake News.
The latest chatter is about Grapeline's newest addition to its offering... Wine Country's only convertible touring van, acquired by Grapeline's sister company, Stryder Transportation. In a recent article, the Valley News said:
What's better than cruising in Temecula Wine Country with the top down on a beautiful summer day? Cruising Temecula Wine Country with the top down along with 18 of your closest friends on a beautiful summer day. That's exactly what guests can do when they book Stryder Transportation's new Mercedes Panoramic touring van – one of only 30 in the United States.
People are saying good things about Grapeline. Thousands of people. Come out for a day of wine tasting, and join the conversation.
~ Kay Syrah
Wine Country Guru Gal
Official Blog