Posted on May 31, 2019 by Kay Syrah |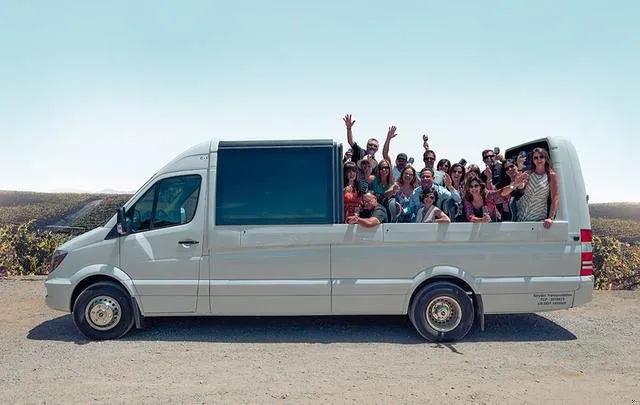 If something can be called one-in-a-million, then it is still 10 times more common than Grapeline's brand new Mercedes Panoramic touring van. The new vehicle is a first-of-its-kind hardtop convertible that seats 19. In the U.S., which has almost 300 million registered vehicles, there are only 30 of the Panoramics, making it literally a one-in-10-million sight.
On April 27, 2019, the new Panoramic made its inaugural voyage with customers on board, taking guests on a wine tour featuring the Big Red Festival in Temecula Valley Wine Country. Among the 18 guests were Grapeline co-founders John and Kim Kelliher. "As we cruised down Front Street with the top down, people were honking and waving," John said of the first trip. "It felt like we were in a parade."
The Panoramic is the world's first hardtop convertible touring van, according to Caleche GmbH, its Swiss-based manufacturer. Built on a Mercedes Sprinter chassis, the Panoramic's passenger section has full glass sides and roof, allowing for unrestricted 180-degree views. But what really sets it apart is the patented convertible feature. Two of the three glass sections telescope into the third, opening up the back half of the van.
"The response from guests who have experienced it has been overwhelmingly positive," according to Kim Kelliher. "And the general public has reacted in funny ways. You see people pointing and taking photos. It's a real head turner."
Grapeline negotiated an agreement with Caleche that includes a conditional exclusive within certain markets, including several of the wine regions Grapeline serves. That means that if you want to go topless in Wine Country, Grapeline is the only way to go.
John described the new van as "the ideal touring vehicle for a place with nice scenery and a good climate. And that is exactly what wine country is." He went on to say, "Temecula's winters are a bit chilly in the morning, but perfect in the afternoon. Whereas in the summertime the mornings are perfect, but the afternoons can be pretty hot. So you really need the option to close the roof for comfort. When the Panoramic's roof is closed, it's fully climate controlled."
In a nutshell, the perfect ride for the perfect day out among the vines.
~ Kay Syrah
Wine Country Guru Gal
Official Blog