Posted on March 27, 2019 by Kay Syrah |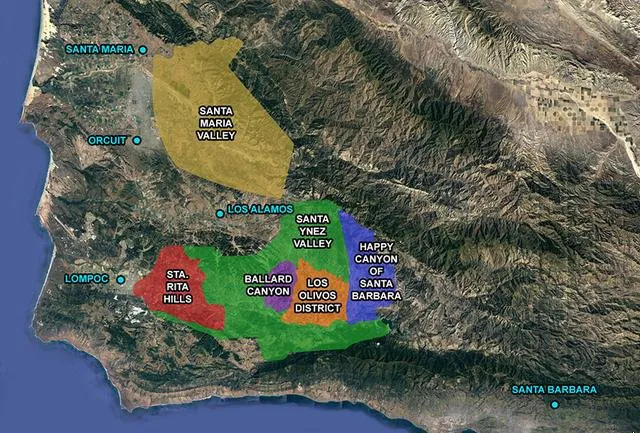 March Madness has begun. Water cooler conversations center on Cinderella stories, acrobatic alley-oops, downtown treys, and gravity-defying hang time. Meanwhile, Santa Barbara wine region has no hometown favorite to cheer, but does have a different kind of hang time to celebrate.
Compared to other wine regions, the growing season here is longer, meaning that fruit has a considerably longer "hang time" on the vine. An East-to-West oriented coastal valley, which is unique among California wine regions, allows a deep inland flow of cool, moist ocean air. The lengthened ripening pattern and unique maritime conditions combine to foster world class wines with a distinct character.
The Santa Barbara wine region is home to six federally recognized American Viticultural Areas (AVAs), all sharing a temperate, Mediterranean-like coastal climate, but each with enough differential in terroir to justify a separate designation.
The region's first officially approved AVA is the northernmost appellation in Santa Barbara County. The often foggy and usually windswept Santa Maria Valley produces an abundance of Chardonnay and Pinot Noir, which thrive in the ocean's influence.
Santa Ynez Valley is a master AVA with several sub-AVA's continued within its borders. The valley is a long, east-west corridor with cool temperatures on the coast that become progressively warmer inland. Consequently, several varietals flourish, from Pinot Noir in the west to Cabernet Sauvignon and Syrah in the east. When you come out on a wine tour with Grapeline, chances are you'll spend most of your day in this versatile appellation, home to most of the region's wineries.
The marine influence is most pronounced in the Sta. Rita Hills appellation, a sub-AVA within the Santa Ynez Valley AVA, located on the westernmost end of the valley. Cooler air make this appellation an ideal place to cultivate its hallmark cool-weather varietals: Pinot Noir and Chardonnay. Several of my favorite Pinot producers - including Foley, Melville and Sanford - call the Santa Rita Hills their home.
Happy Canyon is the newest AVA in the region. Located on the far eastern edge of the Santa Ynez Valley AVA, it inhabits the base of the San Rafael Mountains near Lake Cachuma. This warmer inland region is best suited for growing Bordeaux varieties like Cabernet Franc, Cabernet Sauvignon, Merlot, Petit Verdot and Sauvignon Blanc.
Ballard Canyon, the self-proclaimed "Heart of Santa Barbara Wine Country," is situated right in the center of the encompassing Santa Ynez Valley viticultural area. More than half the vines in its relatively small 7,700 acres are Syrah, and most of the remaining vines are other Rhône varietals including Grenache, Viognier, and Roussanne.
The townships of Ballard, Santa Ynez, Los Olivos, and Solvang all lie within the Los Olivos District AVA, helping ensure that its wineries are among the most visited in the region. The alluvial plain between the Purisima Hills above Solvang and the western flank of the Happy Canyon area results in relatively uniform topography, geology, and soil make-up.
Regardless of who you've picked for your final four, these six appellations are consistent fan favorites.
~ Kay Syrah
Wine Country Guru Gal
Official Blog