Posted on March 01, 2019 by Kay Syrah |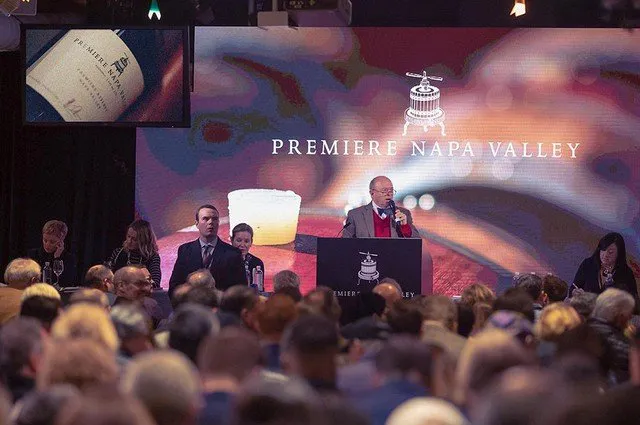 Last Saturday afternoon, February 23, a few hundred people visited the top floor of the Culinary Institute of America at Greystone in Napa County. A few hours later they left, but not until they had purchased some Napa wine. $3.7 million worth of Napa wine.
"Premiere Napa Valley" is the annual auction of one-of-a-kind Napa wine selections in lots as small as 60 bottles and no larger than 240. This year's auction featured 187 lots, mostly from the 2017 vintage, the year of the North Bay Fires. The October fires wreaked havoc on the Valley and some surmised that the 2017 wines would be marred by a noticeable smokey flavor. Fortunately for the vintage, the fires came at the very end of harvest after almost all the wine grapes were off the vines and safely nestled in barrels and tanks. Nevertheless, after unusual weather patterns including a scorching heat spike over Labor Day weekend, and then the fires, many acknowledged that mother nature made sure 2017 was one of the most challenging for Napa vintners in recent memory.
The top grossing lot was 20 cases of Silver Oak Cabernet Sauvignon, selling for $140,000, or about $583 per bottle. The highest bottle price was garnered by a Schrader Cellars Cabernet Sauvignon, produced by Thomas Rivers Brown from the Monastery Block of the renown to Kalon Vineyard. The 60 bottle lot went for $80,000, or about $1,333 per bottle.
Other lots fetching impressive bids were from Shafer Vineyards, Duckhorn Vineyards, Marciano Estate, Seven Stones Winery, Rombauer Vineyards, Somnium Wine, Alpha Omega, Keenan Winery, St. Supery Estate Vineyards & Winery, Quintessa, ZD Wines, Freemark Abbey, Stag's Leap Wine Cellars, and Arkenstone Vineyards.
The auction is the culmination of the week-long Premiere Napa Valley event organized by the Napa Valley Vintners Association, which celebrates its 75th anniversary this year. Premiere Napa Valley raised a record $6 million in 2015, reflecting the excitement over the potential of the 2013 vintage. This year pulled in less than the $4.1 million collected last year. However, the per bottle price rose slightly.
Premiere Napa Valley is an invitation-only event, and I'm not on the list. If you are, please invite me over for some $1,333 Napa Cab. Please?
~ Kay Syrah
Wine Country Guru Gal
Official Blog