Posted on January 26, 2019 by Kay Syrah |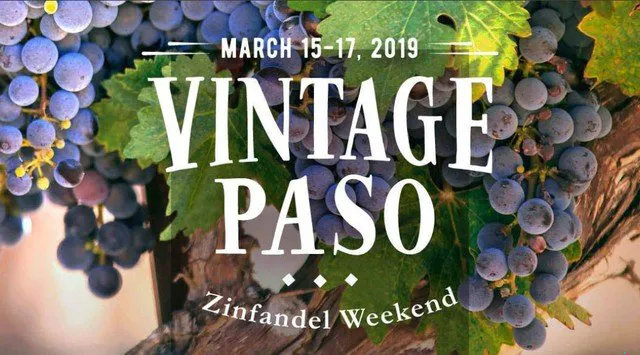 Life is fun. Spending a day in wine country is more fun. Spending a day in wine country when the Vintage Paso celebration is in full force is extra more fun. But if you want your Vintage Paso experience to be the extra more funnest, you should try it the Grapeline way.
What is Vintage Paso? It's a three-day celebration of wine, that used to be called Zin Fest, but apparently the other varietals complained about not having their own Fest. So in a nod to political correctness, the name is more generic.
But the idea is the same. Three days celebrating (mostly) the heralded Zinfandels Paso is known for (sorry, Cabernet, Chardonnay, and the rest of you - just tellin' it like it is). During those three days, wineries take it up a few notches, adding special activities, offerings, and events.
Dozens of wineries host live music. For example, Asuncion Ridge is presenting Wood on Friday, and Nicole Stromsoe & Dorian Michael on Saturday. Other tastings that will be enhanced by live performances include those at Barr Estates Winery, Robert Hall Winery, and Tackitt Family Vineyards.
Nosh will abound. Many wineries will offer edibles from food trucks, from locals cooking up home-made favorites, and as pairings with the wine samples they pour. Appropriately, many will embrace the Zin Fest idea, including Zinfandel-infused Braised Short Ribs and Zinfandel brownies.
Other rare or unusual activities that might be encountered throughout the fest include barrel tastings, and tastes of prized wines from reserve cellars. At Tobin James Winery, you can get a custom-designed airbrush temporary tattoo - show your edgy side with an intimidating "I love Zin" emblazoned on your bicep. Crips and Bloods got nuthin on you.
So the Vintage Paso event sounds extra more fun, right? But what if there were someone who knew all the wineries intimately, and whose job it was to deliver a memorable day in wine country. And what if that someone poured through the listing of events put on by the several hundred participating wineries, and carefully curated a "best of" itinerary to make the most of Vintage Paso. And what if that someone was Grapeline, the top guest-reviewed wine tour company in California?
What would that be? Extra more funnest. That's what. Vintage Paso runs from March 15th to the 17th.
~ Kay Syrah
Wine Country Guru Gal
Official Blog