Posted on January 12, 2019 by Kay Syrah |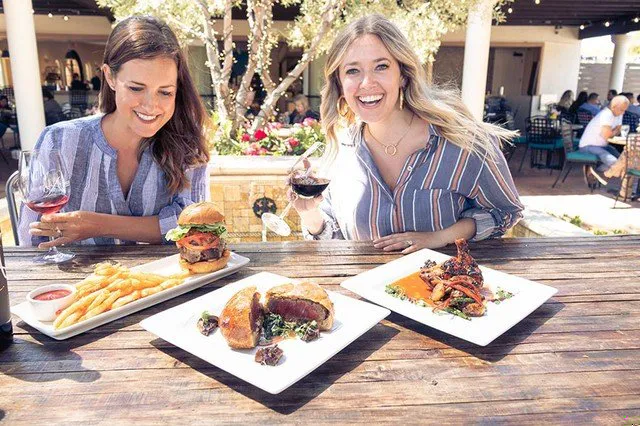 January is California Restaurant month.
If you eat food, and if at any time in January you'll be in California, then you'll be happy to learn that we are now in the midst of California Restaurant Month.
For those of you who read my scintillating blog on International Pinot Noir Day (posted on August 17), it will come as no surprise that restaurants in California have their very own month. After all, Pinot Noir has its own day... as do many other wine varietals, and many more obscure things, including Fried Green Tomatoes as one example of how absurd the everything-has-its-own-Day trend has become.
Restaurant month brings us, people who eat food, special deals and unique menu offerings designed to entice us to eat out. California wine countries are an especially good choice to make the most of California Wine Month. The wine country vibe tends to attract culinary artists like flowers attract bees, so the dining options near the vines tend to be among the best in the state, if not the nation.
In Paso Robles Wine Country, some of the best bets for great deals on scrumptious nosh include Enoteca Restaurant & Lounge, Fish Gaucho, McPhee's Grill, and Thomas Hill Organics. All are offering special 3-course menus for $30 to $40 during the month. Wineries who offer specials include Niner Wine Estates, and Villa San-Juliette Winery, where you can enjoy three courses and a wine pairing for just $40.
In the Santa Ynez Valley, the heart of Santa Barbara Wine Country, dozens of eateries are offering up a three course menu for $20.19, including Mad and Vin at The Landsby in Solvang, Industrial Eats in Buellton and the Los Olivos Wine Merchant Cafe. Wineries adding to the January fun include Roblar Winery and Vineyards, Alma Rosa Winery and Vineyards, and Kalyra Winery, where you can choose a $20.19 sampler that includes either dessert wines paired with Hollywood Sweets Chocolates, or a wine tasting paired with cheeses from Lucky Hen Larder.
The wine regions of Napa, and Temecula both offer up a ample sampling of California Wine Month offerings as well.
So take advantage of the California Wine Month offerings, plan a trip to wine country before the end of January, and Bon Appetiti!
~ Kay Syrah
Wine Country Guru Gal
Official Blog