Posted on January 05, 2019 by Kay Syrah |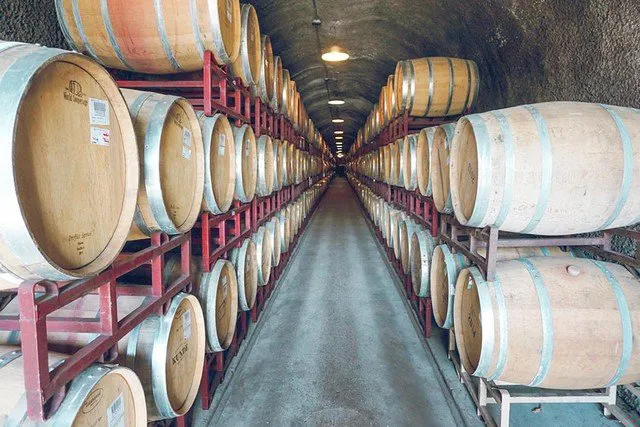 Not long ago, I went on a Grapeline wine tour, which is not a big deal for me. Because I go wine tasting a LOT. But if you have never been on a wine tour, you might want to know what it's like. If so, read on.
I woke up at the Fairmont Sonoma Mission Inn and Spa, and I was already happy. The Fairmont is not actually in the town of Sonoma, but rather in the nearby burg of Boyes Hot Springs. The name refers to the hot water that makes its way to the surface from the ancient mineral springs 1100 feet below the Fairmont. Soaking in these naturally heated mineral-rich waters is one of the many relaxing treatments available in the Inn's 40,000 square foot spa.
After getting ready for the day, I broke my fast at the Sante Restaurant (recipient of the Four Diamond award and recognized as one of the finest dining experiences in the region), where I indulged with the Brioche French Toast covered with fresh California strawberries and a steaming Cappuccino.
After breakfast, I stepped outside the lobby as a custom mini-coach with a distinctive grape icon pulled up, and was greeted by Grapeline host Lance, in his charming British accent. I've heard others describe the gentlemanly Lance as the "Pierce Brosnan of Sonoma," and the moniker fits. Throughout the day, Lance showed that he was knowledgeable, attentive, and very good at his job. He had an obvious knack for knowing when to step in and add insights to our day, and knowing when to lay low and let us socialize with our fellow imbibers.
Lance handed out the itinerary for the day, explaining that the itinerary varies day-to-day based on a number of factors, the most weighty of which is guest requests. For the day of my tour, no one had made any specific requests, so the plan of the day, according to Lance, was to visit wineries that would expose us to a sampler platter of different wine styles and winery personalities.
Our first winery visit was Kunde Family Winery. Kunde is an all-of-the-above kind of winery, with history, a broad range of varietals, and an impressive and varied setting. Founded in 1904, this 1,850 acre winery is in its fifth generation of Kunde family stewardship. Our introduction to Kunde, and to our wine tasting day, began with an informative tour of the 32,000 square foot wine caves burrowed 150 feet below a hillside Chardonnay vineyard.
I left Kunde with 24 bottles for my cellar - a case of their 2016 Wildwood Vineyard Chardonnay (91 points from Wine Spectator) and a mixed case of Cabernet, Malbec, Zinfandel, and Syrah. And also a perfect gift for a good friend who likes to retire after a hearty meal with a Cuban cigar and an after-dinner elixir - Kunde's 1904 Dessert Cuvee in a beautiful etched bottle with its neck sealed in hand-dipped burgundy wax.
St. Anne's Crossing was the next stop on our four-winery adventure. St. Anne's is a charming boutique winery housed in a quaint farmhouse with a shaded back courtyard overlooking the vineyards. What was unique about St. Anne's was their passion for producing a single varietal - Zinfandel - from grapes sourced from different vineyards throughout the region, which allowed us to discover the subtle distinctions and different nuanced flavors arising from different terroirs and and vintner techniques. That's a fancy way of saying that we tasted a bunch of Zins and each one has its own distinct flavor. As we neared the conclusion of our flight, Lance presented our catered lunches from the girl and the fig, who became one of Sonoma's favorite restaurants by producing French-inspired cuisine with the freshest locally-sourced ingredients.
My Zinfandel collection swelled considerably thanks to my St. Anne's tasting. In the spirit of the single-varietal experience, I purchased one each of 18 (yes EIGHTEEN) different Zins, including three single-barrel reserves.
At Deerfield Ranch Winery, we sampled wines produced by 2018 Winemaker of the Year Robert Rex (as proclaimed by the American Fine Wine Competition). Rex, who has been making wine for 46 years, is a true renaissance man, who is also skilled as a chemist, graphic designer, woodworker, and gourmet chef. Although I have explored many wine caves during my Grapeline tenure, Deerfield is one of a select few where the wine tasting is entirely subterranean. Deerfield's 23,000 square foot wine cave is not only their naturally cool and moist wine storage facility, but it also houses their tasting room. Another winery, another two cases of wine for Lance to store in the back of our shuttle.
We finished our day at Valley of the Moon Winery at Madrone Estate, one of the most venerable properties in Sonoma Valley. Beginning with the vineyard planted by pioneering vintner George Whitman in 1863, the winery has a storied history that includes prominent American figures such as Senator George Hearst, who purchased the winery in 1888 and is remembered mainly as the father of newspaper icon William Randolf Hearst. The original barrel cellar constructed in 1887 is still in use, and is among the oldest stone structures in the region. Valley of the Moon specializes in small-lot production sourced throughout Sonoma County. Many lots are limited to just a few hundred cases, and are produced with the goal of maximizing the unique characteristics of the small batch of grapes that go into them. And yes, I made some of these small lots noticeably smaller with a whisk of my credit card.
A fifth-generation family grand estate winery. A single-varietal immersion at a boutique winery. A deep-underground tasting featuring the wines of a Winemaker of the Year. And a sampling of small-lot masterpieces at an historical icon. All while being taken care of by a master of hospitality.
Just another day with Grapeline.
~ Kay Syrah
Wine Country Guru Gal
Official Blog