Posted on December 21, 2018 by Kay Syrah |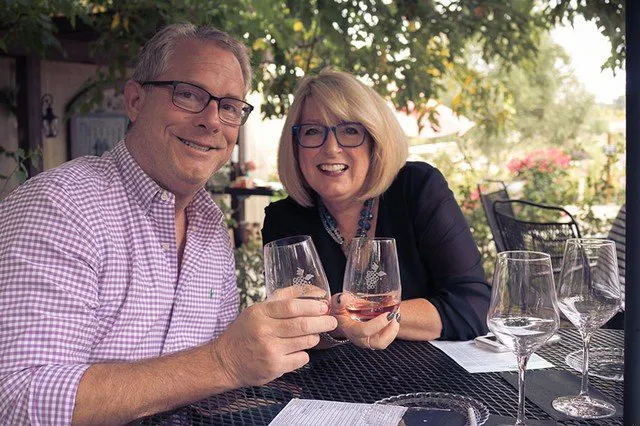 When it comes to wine tasting tours, options abound. Here's a little primer from your friendly Wine Country Guru Gal, so you can be a guru too when it's time for you to shop wine tours.
There are two categories of wine tours. One is the private tour, where you and your group have a vehicle and a itinerary that is exclusive to you. Think: chartering a private plane. The other is a shared tour, also called a public tour, or a join-in tour. For a shared wine tour, you join like-minded wine lovers and spend the day tasting with them. Think: buying two seats on an airliner. The private option is a lot more expensive for small groups, but for larger groups, the price difference becomes inconsequential.
Once you choose between a shared wine tour or a private wine tour, the next step is to decide on what you want included.
Inclusive wine tours includes all the tasting fees, and usually a lunch or another edible like a cheese platter. Easy. A la carte tours are pay-as-you-go, which is a good option if you are already a wine club member at some of the wineries you're visiting (most wine clubs offers up complimentary tastings), or if you're a steady wine purchaser in a region where they waive tasting fees for bottle purchasers.
Another differentiation between wine tours is the type of vehicle used. Common choices include sedans and limousines for smaller groups, and vans or buses for larger parties. However, many companies offer specialty vehicles to add a little memorable touch to the excursion. Specialty vehicles include off-road vehicles like jeeps and Hummers. Trolleys and cable car replicas are often used. And some companies use classic cars, like Volkswagen minivans. Each of these novelty vehicles its own pluses and minuses, most of which are pretty obvious. For example, the off-road vehicles add some adventure (plus), at the expense of comfort and roominess (minus). One lesser-known aspect of the limo and "party bus" category is that many wineries prohibit them, wanting to avoid patrons who have been riding around for hours with an all-you-can-drink on-board bar.
The final distinction I'll mention is the wine tour company's philosophical approach. Some offer up a very educational day, going as far as employing hosts who are Sommeliers. On the other end of the spectrum are the companies who cater to the stripper pole-equipped party bus crowd. In addition to affecting the type of experience you'll have, the company's approach will also affect the reception you'll receive at the wineries you visit, and even which wineries you can visit.
So how do you decide? I'll tell you to just call Grapeline. No surprise. They pay me to say that. But hey, all the people who have posted glowing online reviews and made Grapeline the top-rated wine tour company in California say to call them too. Just because I'm biased doesn't mean I'm wrong.
~ Kay Syrah
Wine Country Guru Gal
Official Blog