Posted on November 16, 2018 by Kay Syrah |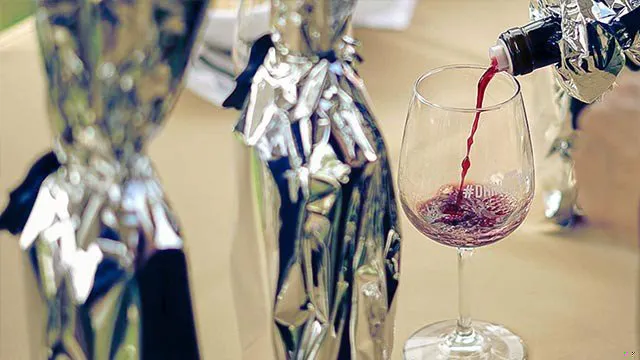 The people have chosen. And by people, I mean NOT the highly-trained and super-sensing professional wine critics whose opinion we rely on to help us justify spending way too much for a bottle of wine because it has a 90+ score attached to it. Just regular people who know good wine when they taste it.
On the afternoon of October 28, it was sunny and warm, with temperatures in the mid 80's, and a light breeze stirred the shade umbrellas in the courtyard of the palace-like Fazeli Cellars. The perimeter of the courtyard was lined with tables draped in beige linens, and covered with a continuous line of wine bottles concealed in shiny silver Mylar bags.
Doffo and South Coast won.
That was for all the short-attention-span readers who were already thinking, "just get to the damn point, and tell us the winners." There. Now you can go back to checking your email while you Snapchat yourself ignoring the people you're having lunch with.
For everyone else, here's the rest of the story. The event was the annual People's Choice Blind Tasting presented by the Temecula Valley Winegrowers Association. Temecula wineries submit vinos they have confidence in, and the general public is invited to stop by, taste 50 different wines, and then simply rate them on a scale from 1 to 5 (yep, 50 wines... dump buckets are essential). The competition is a blind tasting, which means that no one knows whose wine they are sampling.
Remarkably, Doffo Winery took top honors for the second year in a row. Damien Doffo, winemaker and scion of the Doffo clan, said "We are honored and humbled to win the People's Choice award with our 2016 Zinfandel." Really Damien? We all know what you were really thinking: "Oh yeah, BAYBEEE!!!!! [*fist pump] We're number one!!!!! [*scissors dance]." But it was nice that you toned it down for the official quote
Here are the results:
RED WINES
1st Place: 2016 Zinfandel, Doffo Winery
2nd Place: 2015 Shiraz, Fazeli Cellars
3rd Place: 2016 "Refugio" Cabernet Sauvignon, Wiens Family Cellars
WHITE AND ROSE WINES
1st Place: 2017 Sauvignon Blanc, South Coast Winery
2nd Place: 2016 Melody Twins, Avensole Winery
3rd Place: 2017 Sauvignon Blanc, Maurice Car'rie Winery
Congratulations to the winners! And thanks to the Temecula Valley Winegrowers and host Fazeli Cellars... it was a great event.
~ Kay Syrah
Wine Country Guru Gal
Official Blog