Posted on October 12, 2018 by Kay Syrah |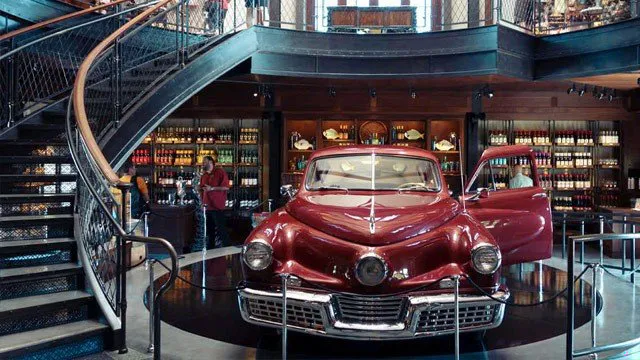 There are two kinds of wine-loving celebrities. The kind that start a winery, or buy one, and then pour tons of energy and money into making really amazing wine. And the kind that are really into having their name on a wine bottle. Guess which ones annoy me. Go on. Everyone who is (or was) anyone has a winery these days: Drew Barrymore, Sting, Jason Priestley, even the now detached duo of Brangelina. But let's not go there; it's too soon.
If we're going to talk about celebrity winery owners, we have to start with the celebrity winery owner, the one everyone associates with wine.
Francis Ford Coppola. You know, Apocalypse Now, The Godfather, Bram Stoker's Dracula… the list of culturally iconic movies he's directed goes on and on.
Coppola and his wife, Eleanor, purchased their eponymous winery in 2006, but didn't start renovating it until 2008. The winery took two years to be completed and has since become one of the hot spots of the Sonoma County wine scene.
The goal wasn't just to build a winery, but to create a "wine wonderland" that would be a fun place to visit whether you were of age to enjoy wine or not. The grounds include a bocce ball court, two swimming pools, a restaurant, performing arts pavilion, gorgeous landscaped park, scenic terrace and, of course, incredible movie memorabilia. Francis and Eleanor created a winery that could easily win an Oscar for "best performance among the vines." Even kids can have tastings! Don't worry, they're just tasting smoothies, not wine. But still, no one left out of the fun!
Wine tasting poolside in an opulent garden setting? Sign me up, and fill my glass!
Oh, and the wine is good. Award winning in fact (just like his movies). And with 40 different wines produced on the premises, it's also plentiful. They offer pretty much everything from classic everyday vinos to limited production selections. And if you're into more than just imbibing, you can also tour the state-of-the-art bottling facility or experience the grape harvest first-hand.
But why wine? Hardly seems the "thing" for a Hollywood bigshot. Well, apparently it is if you're Francis Ford Coppola and you believe that wine is a key component of any family gathering and helps form the backbone of life's experiences and celebrations. Can't say I disagree!
~ Kay Syrah
Wine Country Guru Gal
Official Blog