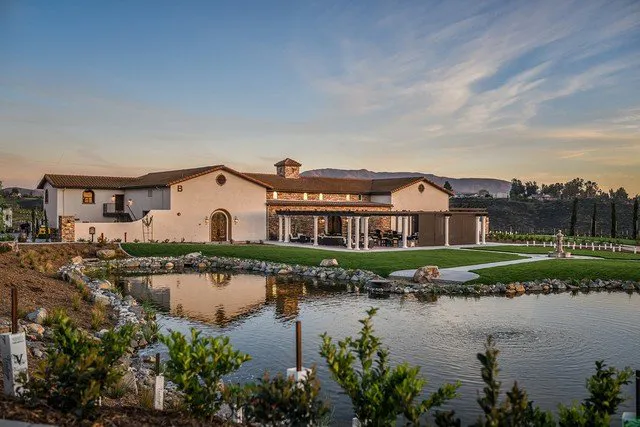 Pop quiz. What do you do after you have served as California's Assistant Attorney General, written westerns, and run a motion picture production company? The obvious answer: you open a winery. Well, at least that's what you do if you're Sheldon Lytton, the proprietor of Avensole Winery in the Temecula Valley.
Sheldon, his wife Susan, and his sister Maribeth discovered Avensole, then named Van Roekel, in 2013. They immediately fell in love with the hillside estate winery with park-like grounds. Most people do. But the difference with the Lyttons is that they had the desire and the wherewithal to buy Van Roekel, redesign it, and add an indoor-outdoor restaurant, and a large koi pond, and a vibrant live music schedule, and several private event spaces, and the list goes on.
Local historians herald the parcel Avensole is situated on as the birthplace of Temecula Wine Country. Back in 1968, adjacent to a dirt path then known as Long Valley Road (soon to be renamed Rancho California Road), wine pioneer Vince Cilurzo planted Petite Syrah and Chenin Blanc, the first commercial vineyards in the Temecula Valley. The Lytton family has a tremendous respect for the historic role their winery plays, and they intend to carry on a noteworthy tradition as they craft New World California style wines with a focus on Zinfandel.
Avensole's 20-acre estate vineyard produces Cabernet Sauvignon, Muscat Canelli, Old Vine Zinfandel, New Vine Zinfandel and Gewürztraminer. Other California-sourced varietals rounding out their offerings include Pinot Grigio, Viognier, Roussanne, Syrah, Merlot, Cab Franc, and Malbec.
Their Marketplace Restaurant offers plenty of al fresco dining on a spacious patio encircling an impressive planter-fountain feature crowned by a Mission Olive tree. Big appetites will be sated by such hearty mains as the Lobster Mac & Cheese, Chicken Cordon Bleu, and Osso Bucco (to name a few). But I prefer to select from the ample choices of small plates and lighter fare, ideal for noshing on while sampling unique cocktails crafted with house-made spirits, including distillates from Apple, Pear, and Raspberry.
In short, the Lyttons have reinvented a Temecula classic, and it has emerged as a Temecula legend-in-the-making.
So, to recap, when we're done with our extremely impressive professional lives, we should buy a historic winery in the bustling Southern California Wine Country and elevate it on so many levels it becomes a must-see attraction. Or, let the Lyttons do the heavy lifting, and we'll just linger at Avensole, listen to a talented musician, and work our way through a bottle of their 2012 Super Tuscan. You up for the task?
~ Kay Syrah
Wine Country Guru Gal
Official Blog