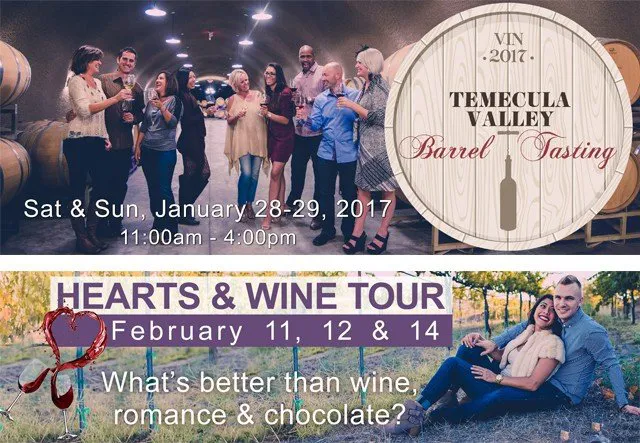 One day the rain will stop. We have to believe that, just like we had to believe that eventually the drought would end, right? Well, whether or not we eventually get to put our rain boots away, I have two, fun one-time-only-so-you-better-book-today events lined up that should help distract you from the endless gray.
TEMECULA VALLEY BARREL TASTING
Usually the wine you sample at wine tastings comes from bottles. Have you ever wondered what it tastes like straight out of the barrel or the tank? Wonder no more! I have the 'in' for a special little event for everyone looking for a slightly different tasting experience. The Temecula Valley Barrel Tasting weekend, Saturday & Sunday, January 28-29, 2017, is put on by the "Wine Growers Association," but Grapeline has a sweet suite of package options to ensure you get there safely and enjoy the weekend without having to worry about transportation from winery to winery. It's a one time event, so hurry up and book it already!
HEARTS & WINE TOUR 2017
This next event is a special one for all you lovebirds out there. Forget flowers and chocolate. Wait, no. Just forget the flowers, bring all of the chocolates with you. Even better, let us provide the chocolate, you just bring yourself and your significant other. The Hearts and Wine 2017 tour is a gem of an excursion that will win you all of the Valentine's Day brownie points you could ever hope to score. Choose the Paso Robles or Santa Barbara Hearts and Wine tour which both feature special champagne toast & chocolate pairings during 4 winery visits (all tastings included, of course!), a gourmet-inspired lunch, served in wine country, and hand-made, heart-shaped chocolates for two. Or select the Temecula Hearts and Wine tour which stops at three special winery visits and features wine & champagne, gourmet cheeses, breads, fruits, and chocolate served in a romantic setting.
Trust me, wine, romance, and chocolate is what Valentine's Day is all about. You can't go wrong here.
~ Kay Syrah
Wine Country Guru Gal
Official Blog