Posted on September 01, 2016 by Kay Syrah |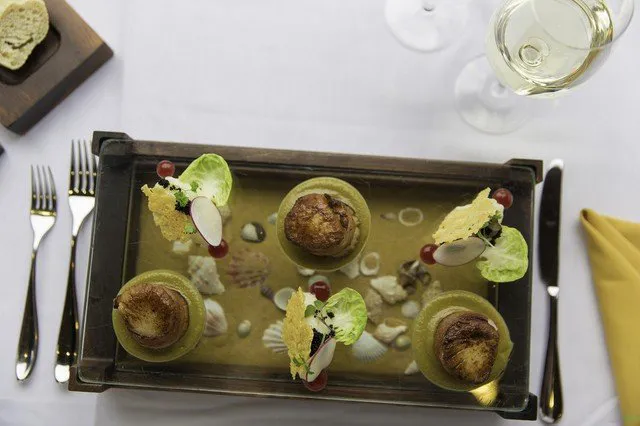 In a previous post, I reviewed the dining available at Lorimar Winery, Wilson Creek Winery, and Robert Renzoni Vineyard and Winery. And I promised to return to the subject of Temecula winery restaurants. You can guess why -- I wanted an excuse to sip and savor on the company dime, which is exactly what I did. Thomas Edison famously said "There is no substitute for hard work." Well, I think if he tried my job, Tom would have added "...except getting paid to nosh on insanely tasty food."
Bel Vino Bistro at Bel Vino Winery
Kanan Road's lead singer is wearing flip flops and a plaid shirt, ripping through a crowd-pleasing rendition of Lynyrd Skynyrd's "Gimme Three Steps." Looking towards Mt. San Jacinto on the horizon, the foreground is a landscape of lush rolling vineyards, ready for harvest. And on the table in front of me is a plate of Tatria Short Ribs - all natural Harris Ranch beef, slow braised, and accompanied by shallot mashed potatoes, organic rainbow carrots, and a Tatria demi-glace. Life is good on a sunny, breezy Saturday afternoon at The Bistro at Bel Vino. Live music, hill-top views, and al fresco dining create the perfect ambiance to appreciate the creations of Executive Chef, and Le Cordon Bleu graduate, Nathaniel Philips.
The Restaurant at ​Leoness​ Cellars​
Is there a better place than The Restaurant at Leoness Cellars to sate your appetite while you're out wine tasting? Nope, not according to a recent USA Today poll that named the Temecula eatery the "Readers Choice Best Winery Restaurant." Wine country experts selected twenty contenders, then popular vote determined the culinary champ. ​I think if the voters tried the indulgent hand-cut truffle fries and nothing else, that might have been enough for the win. But they must have kept indulging, because the folks at USA Today also mention the Fanny Bay oysters, the duck confit ravioli, and the honey smoked salmon. All superb choices, but how could you forget the dessert that makes me involuntarily close my eyes and eat really slow... their Blackberry Cobbler, a warm winter berry streusel garnished with nitrogen-churned Leoness Cinsaut Port ice cream.
Annata at Mount Palomar Winery
On a recent Sunday, I was perusing the menu at Annata, the glass-walled dining establishment at Mt. Palomar Winery. Everyone ​else in the place​ seemed to be starting with the Adobo Pork Belly, so I did too. And everyone seemed to be raving about how good it was, ​and​ now I am too. It has a Jicama peanut slaw, and pairs well (according to not only the ​men​u, but also my taste buds) with the Castelletto Sangiovese. For the main course, I went with the Pan Seared Trout. Served artfully with a citrus watercress salad and cauliflower puree, it was​ delicious and​ satisfying.​ For those rare times when I'm "wined out," Annata sets itself apart from other local restaurants with a full service bar that serves up handcrafted signature cocktails.
Soon I'll be back at it, visiting more wine country restaurants, laboring to provide you with more insights about Temecula Valley edibles. Without taking anything away from the diligence Mr. Edison expouses, I'll offer my own sentiments on career aspirations: "There is no substitute for a fun job." You can quote me on that.
~ Kay Syrah
Wine Country Guru Gal
Official Blog