Cabernet, Merlot, and Charizard
Posted on August 17, 2016 by Kay Syrah |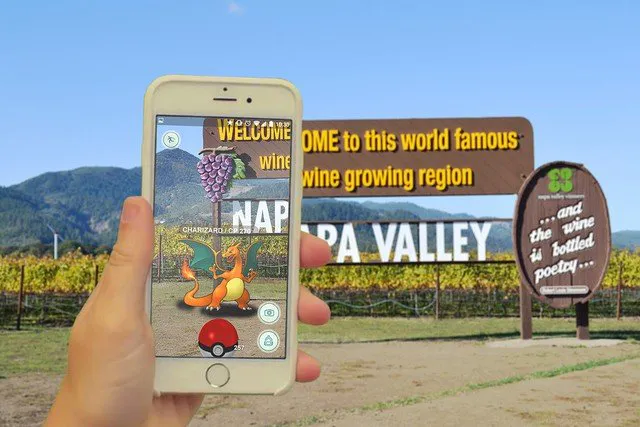 Last week a Grapeline guest asked her bus driver to go reaaal slooow around a corner near the Temecula duck pond. She had a compelling reason. "I'm catching a Pokemon," she explained without looking up as she intently swiped her iPhone with her index finger.
Temecula's duck pond provides refuge to more than just Mallards and Gadwalls. There are Pikachus and Geodudes, too. The duck pond bustles with kids and grown-ups alike, bent over smart phones, playing Pokemon GO. The augmented reality game from Nintendo, launched on July 6, immediately became a worldwide phenomenon.
Within one week, the game had more daily users than Twitter. In the same span, the value of its parent company, Nintendo, surged $12 billion dollar to $30 billion.
And plenty of wineries jumped on the super-hot trend.
Hopwood Winery in Zionsville, Indiana (nope, I'm not making that up) introduced a Bulbasaur Blue Raspberry Slushie for the "younger Pokemon Masters" who accompany their Chardonnay sipping parents, and promoted an event called "Pokemon GO meets Chardonnay GO." For several Napa wineries, the folks at Napavalley.com highlight not only "What you should drink," but also "Why you should GO." At Stag's Leap Winery, the "what to drink" includes the award winning field blend called Ne Cede Malis. And GO players need to know that the legendary winery has "an awesome Gym for Team Valor. More than one PokeStop," and while visiting, the Napavalley.com tasters/gamers "almost caught a Paras, but it ran away."
Darn those slippery Paras... whatever they are.
This Pokemon GO craze is less than two months old. The earliest winery for which we've found archaeological evidence was set up in a cave in Vayots Dzor, Armenia. It was fermenting grape juice back in 4100 B.C. My bet is that we'll be visiting wineries long after Pokemon GO has gone for good. But meanwhile, Grapeline drivers will slow down for Charizards, on request.
~ Kay Syrah
Wine Country Guru Gal
Official Blog