Posted on July 02, 2019 by Kay Syrah |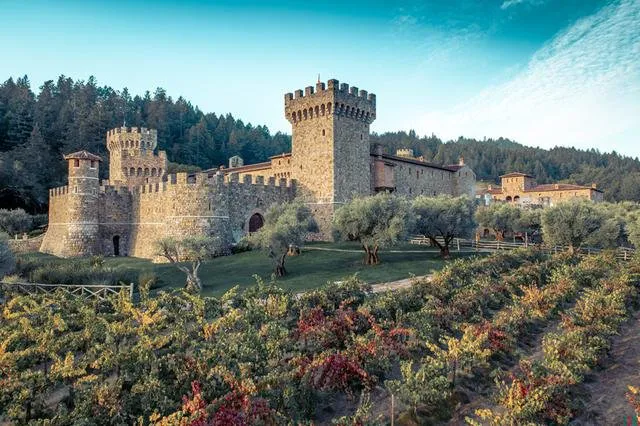 During my last Napa Valley wine tasting, I visited The Castle because that's just something you do. When Napa people talk about the Castello di Amorosa, which they often do, they never use its full name. It is like a celebrity that way. When "Rolling in the Deep" plays, no one says "that Adele Laurie Blue Adkins sure can sing." Overkill. Adele is enough. So, when you ask Napa Valley locals what wineries are on the "must visit list," and they definitively answer "The Castle," they are implicitly acknowledging that the remarkable edifice built on 171 acres overlooking Calistoga is something so beyond the ordinary, elaboration becomes unnecessary.
Oddly, I've been to Napa Valley dozens of times before, and visited more than a hundred wineries, but this was my first visit to Castello di Amorosa. Why? To be frank, it seemed way too "touristy." To paraphrase a famous Yogi Berra quote, nobody wants to go there anymore because it's just too popular. So I kept it on my "someday" list, and that someday finally came. Now having finally visited this much-visited landmark, I enthusiastically recommend it as a must-see for first-time Napa visitors.
The Castello di Amorosa, literally the "Castle of Love," is the legacy project of 4th generation vintner, Dario Sattui. Dario's great grandfather, Vittorio Sattui, immigrated from Italy and founded St. Helena Wine Cellars in 1885. But Prohibition closed its doors in 1920. As a child, Dario played in the empty winery's underground cellars and dreamed of reviving the family business. After college, he traveled around Europe and became fascinated with medieval structures, spending hours sketching ancient castles, monasteries, palaces, and wineries. When he returned to America in 1972, his love for castles was well-established, but his immediate plan was to re-open the family winery that had stood dormant for more than half a century. In 1975, with $8,000, a family heritage, and a novel approach to the wine business, he re-opened the family winery as V. Sattui Winery, and guided it to success.
With one dream realized, Dario turned his attention to a grander vision. In 1994, having acquired a historic 171-acre property where Colonel William Nash had planted one of California's first vineyards in 1846, Dario began construction on what was intended to be a 8,500 square foot above-ground building. The grand dream became grandiose, gradually growing in scale and concept until opening to the public in 2007 as a 121,000 square foot, 13th century Tuscan castle with four above-ground levels, four underground levels, and 107 rooms.
The castle has a moat (why not?), a drawbridge, crenelated parapets, a torture chamber, a chapel, and just about every other interesting component a medieval castle might feature. Determined to create a masterpiece as authentic as possible, Dario used "only old, hand-made materials... employing the same methods and materials that would have been used 700-800 years ago. You can't fake something like this. You either do it right, or people will know it's not authentic."
Visit Dario's masterpiece, and you will know immediately that he didn't fake it or cut corners. Construction took more than a decade, and incorporated more than 8,000 tons of hand-chiseled local stone, and almost a million ancient bricks imported from Europe. The interior is decorated with antique materials and furnishings from Europe, filling more than 200 containers.
The result is a wondrous showcase of medieval architecture and art, in a beautiful natural setting with spectacular valley views. And, there's Napa wine.
~ Kay Syrah
Wine Country Guru Gal
Official Blog