Posted on April 03, 2019 by Kay Syrah |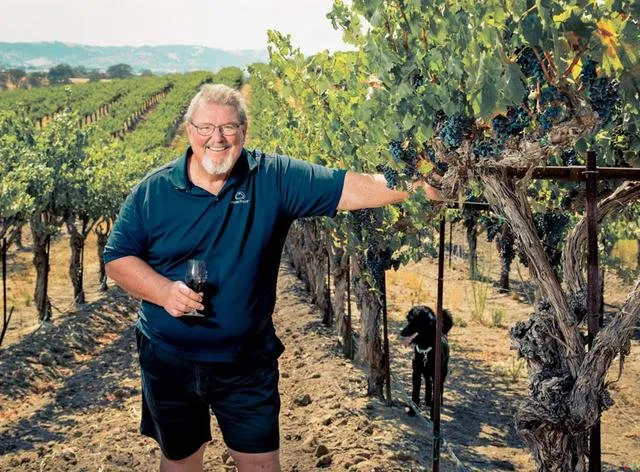 Gary Eberle is a friendly guy who likes to sit on his front porch with his two black poodles by his side and a glass of Cabernet in his hand. That's who he was when I met him last month during the Vintage Paso Festival.
Gary Eberle is also perhaps the most well-known trailblazer in Paso Robles wine country. He is widely regarded as one of the founding fathers of Paso's burgeoning wine industry, and his resume is filled with firsts and surprising accolades.
Gary's path to the front porch of one of Paso Robles' most iconic wineries is anything but typical. Along the way, he sacked future Dallas Cowboys QB Roger Staubach, he earned an award as a National Science Fellow, and he "invented Paso Robles Wine Country," according to the tongue-in-cheek praise from a Paso winemaker.
Growing up in a small town in Pennsylvania, the typical career path should have led Gary straight to the steel mills. But his size and athletic abilities earned him an "All American" accolade as a defensive tackle, and a football scholarship playing at Penn State for coaching legend Joe Paterno. He even played briefly (18 days!) with the Detroit Lions. Gary earned a Biology degree at Penn State, then went to LSU where he studied cellular genetics. While at LSU, he became interested in winemaking and went on to earn a degree in Enology at UC Davis.
In 1973, Gary and his family began building one of the first post-prohibition wineries in Paso Robles, the Estrella River Winery. It was the first in San Luis Obispo County to distribute nationwide, and the first to claim the Paso Robles AVA on its labels - in fact, Gary was instrumental in creating the AVA in 1983. Gary was the first American winemaker to produce a 100% Syrah wine, and at one point almost all the Syrah grown in the United States was from Eberle's cuttings, prompting Wine Spectator to declare him the "Johnny Appleseed of Syrah."
The Eberle Winery opened in 1982, and in 1991 Gary proved once again that he was a ground-breaking wine entrepreneur. He went subterranean, tunneling the first wine cave in Paso Robles, a 16,000 square foot cavern that hosts guests on regular tours, and provides a stunning venue for unique events.
Gary's renown as a pioneer is matched by his accomplishments as a producer of acclaimed wines. Eberle wines have earned countless awards and superior ratings. A recent example -- Wine Enthusiast awarded 92 points to the Eberle 2014 Steinbeck Vineyard Syrah. Their description of the lauded vino: Tarry, gamy aromas provide an intriguing entry into this bottling from pioneer Gary Eberle's winery, founded in 1982. The nose also conveys charred blueberries, thyme, rosemary and lavender. Leathery, rustic flavors show on the palate, alongside hints of boysenberry, cracked peppercorn and roasted venison.
Eberle recalls Paterno pushing the team to "be better." It is a lesson the wine country pioneer recalls regularly, and a lesson he obviously took to heart in creating his own legacy.
~ Kay Syrah
Wine Country Guru Gal
Official Blog