Posted on November 09, 2018 by Kay Syrah |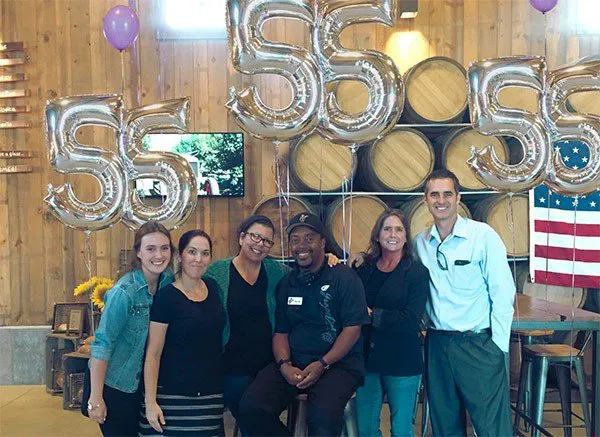 Mike Miles had a birthday this week. Who is Mike Miles? He's a hard working, unassuming family man who is respected and loved by his family, friends, and coworkers. And he's a guy who makes the world a better place for a LOT of people.
I joined some of my Grapeline cohorts at Peltzer Winery in Temecula on Mike's actual birthday to surprise him with some Bundtlets with lit candles, some festive balloons, and a ear-punishing rendition of the Birthday Song. But Mike wasn't at Peltzer to celebrate his birthday. He was there to do his best to make sure others have a really fun and memorable time.
Mike is a wine tour host. To this profession, he brings warmth, knowledge, humor, and a passion for taking care of people. Guests who have been on tour with him have posted several hundred 5-star reviews for him in online review forums like TripAdvisor and Yelp. Here's a few recent examples...
Our driver and host was Mike, and he was awesome! He was fun, knowledgeable and by the time the day was over 10 strangers were friends.
Such an amazing wine tour! We visited 4-5 wineries and had the best day ever! Mike Miles was our driver/host and beyond entertaining. If possible, ask for him. He was hilarious and the music was great!!
The tour guide Mike was very knowledgeable, personable, and had a good sense of humor. He made sure we had what we needed and his efforts really made for a great day for us.
My wife and I's guide for the day was Mike. His 15+ years of experience shows as he is absolutely fantastic. Do yourself a favor and book a tour with him. He'll make sure you are taken care and more importantly, he'll make sure you have a great time!
It may seem like I picked the postings that best proved my point. Nope. These were just the most recent online opinions, and are basically just like the hundreds of others. Mike is that good.
Mike has been hosting for Grapeline for 15 years now, and along the way he has helped create great memories for several thousand wine country visitors. And based on how they describe the day, it's obvious that their lives were enriched, if only for one truly relaxing and enjoyable day, by this week's birthday boy.
For this blog, the hat is now backwards. Those of you who have been lucky enough to go on a wine tour with Mike know what I'm talking about. The rest of you, what are you waiting for?
Happy Birthday, Mike Miles.
~ Kay Syrah
Wine Country Guru Gal
Official Blog