Posted on September 15, 2018 by Kay Syrah |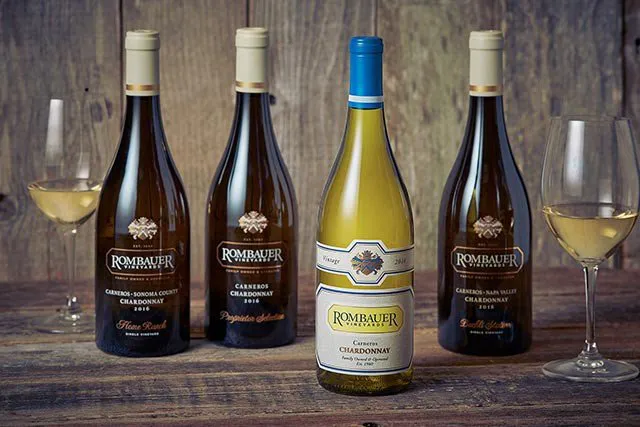 When you ask her which is her favorite wine, my best friend Tiffany does a shoulder shimmy and uses a Juliette Binoche accent to say "Rrrroommmbaaauuueeerrr." Even uttering the name of Napa's Rombauer Chardonnay is an intoxicatingly happy event.
Rombauer Vineyards, located in the St. Helena area of Napa Valley, produces what might be the defining Butter Bomb. Secondary Malolactic Fermentation converts the tart malic acid, naturally present in grape must, to the smoother lactic acid with the buttery natural byproduct diacytl. When a sophisticated Oenophile says about their Chard that they "prefer a Chard with malo," what they are really saying is that they are just too snooty to admit "I like a buttery Chardonnay."
After showing up on Wine Spectator's prestigious and influential Top 100 Wines list in 1991, Rombauer Chardonnay shifted from cult classic to mass-appeal favorite. The 1997 vintage of the flagship Carneros Chardonnay relies on secondary malolactic fermentation to impart its signature creamy texture and flavors of vanilla, peach, mango, and creme brulee. It's a reliable Butter Bomb, with a rich, creamy mouth feel that fans savor with eyes closed and mouths pursed in satisfied grins.
But not all winemakers go to the extra trouble to make their Chardonnays a creamy dream. And why not? Because it turns out that Tiffany and all the other faithful fans of buttery Chards are all wrong. At least, that's what the other camp insists.
Adherents to the "other" kind of Chard believe that malolactic fermentation takes the wine on an unwanted detour. The main route is the right path, and it goes right down "standard" fermentation and into your glass, without the malo deviation.
Both camps can by pretty passionate, even persnickety, about their preference. A good example of a well-regarded Chardonnay maker who eschews malolactic is Far Niente, located just a few miles from Rombauer in the Oakville area of Napa Valley.
Far Niente even made their case in writing, in a blog that - in very lawyer-like fashion - makes the case for blocking malolactic fermentation with three numbered points. Namely:
Non-Malolactic Chardonnay (I'll use NMC for short) retains the fruit's acidity, which offers up a more refreshing finish and allows better aging and food pairing.
NMC delivers more vineyard-driven aromas and flavors, presenting the unique Terroir of the grapes.
NMC allows Far Niente to showcase the creamy-mineral quality of the Charlemagne clone they harvest, a quality which could be compromised or even completely overshadowed by the malolactic process.
Who's right? I've tasted Rombauer's Carneros Chardonnay. Its fans are right: it's a mouthful of butterscotchy happiness. I've tasted Far Niente's Estate Bottled Chardonnay. Its fans are right: it's a mouthful of complexly refreshing nectar.
Which is better? You decide.
~ Kay Syrah
Wine Country Guru Gal
Official Blog