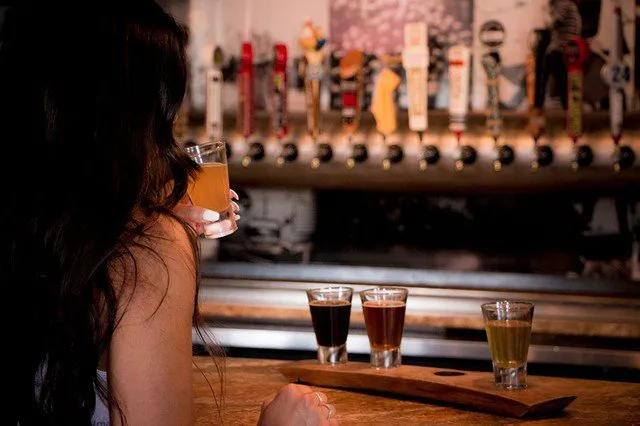 Our great nation has never been more divided. But we are so much stronger when we recognize that we are all the same species living together on ​one planet, and ​that ​we have​ ​much to gain by working together. So, I beseech all who might read my blog: Put aside your differences and unite, whether you are a wine drinker or a beer drinker. ​
If you know me at all, you know that wine has ​​a special place in my heart, and a permanent place in my glass. Having said that, ​if I'm chomping on a mustard-smeared ballpark frank while watching Clayton Kershaw hurl a 94 mph heater down the pipe, nothing washes down the dog better than a frothy ​16-ounce brewski. Full disclosure, I've never been to a baseball game. Took some literary license there. But you get the point, which is that there actually are times when I would rather have a pint of lager than a glass of Pinot Gris.
I especially like some of the craft beers I've sampled, like Pliny the Elder, brewed by Russian River Brewing Company, not far from ​the wineries ​Grapeline​ frequents in our​ Sonoma Valley branch. The American Double/Imperial IPA​ achieved a rare 100 point score from Beer Advocate. And it has a cult following so dedicated that I know one restaurant ​who has access to a small quantity, but doesn't even put it on their menu. Insiders know the deal and whisper their orders so that word doesn't get out, and supplies last longer.
In the Temecula Valley, home to over 40 wineries and the birthplace of Grapeline Wine Tours, there are now a dozen craft breweries, most of which have opened their doors during the past four years. One of the more popular Temecula brewhouses, Refuge Brewery, has made headlines with its Blood Orange Wit. Winner of numerous competitions and a crowd pleaser during Temecula's h​o​t summers, its easy-drinking ​light wheat body ​is bolstered by bold flavors​,​ ​medium ​sweetness​,​ ​and​ a touch of tartness.
I went on a beer tasting tour last month - the Stryder Brew Cruiser in Temecula - and I was stunned at the variety of beer flavors and styles, and also by the passion that craft brewers have for their trade.
So, even though I am loyal to wine and my fealty is lifelong, I have come to appreciate ​craft breweries in much the same way I love wineries: as welcoming and magical places creating intricate and intoxicating elixirs. ​
A​ few interesting Wine vs. Beer statistics (all are from 2015 reports)...
Far more beer than wine is consumed worldwide. We Americans quaff 913 million gallons of wine per year (more than any other nation), and about 6.3 billion gallons of beer (second behind China). The top wine brands worldwide are:
Barefoot (U.S.): 446 million gallons
Gallo (U.S.): 396 million gallons
Concha y Toro (Chile): 364 million gallons
Hardys (Australia): 348 million gallons
Yellow Tail (Australia) 330 million gallons
And the top beer brands globally: ​
Snow (China): 2.7 billion gallons
Tsingtao (China): 1.4 billion gallons
Bud Light (U.S.): 1.3 billion gallons ​
Budweiser (U.S.): 1.2 ​billion gallons ​
Skol (Africa): 1.1 ​billion gallons
That's a lot of consumption, and I'm proud to say I've done my part to help keep the wine numbers up. Now that I've sampled the craft brewery offerings in the Temecula Valley, I'll be helping to keep the beer figures strong too.
~ Kay Syrah
Wine Country Guru Gal
Official Blog